How to do a split URL test with live query parameters
https://docs.convertize.io/fr/docs/redirection-url-parametres-de-requete/
We are going to show you how to keep your query parameters when you run a split URL test on Convertize.
What are parameters?
When someone visits your site, the parameters contain useful data about them such as where they have arrived from. For example, in: www.convertize.io?utm_medium=email, the parameter in bold indicates the user arrived from an email.
If you want to test significant design changes and set up a split URL experiment, your traffic is split between two variations of your website that are hosted on different URLs, for example:
www.myshop.com
www.myshop.com/test/
When you run the experiment, and visitors to the first URL are forwarded to the second URL, the attached parameters are lost. This may cause a problem.
If we imagine that you have been running an email campaign that promises your mailing list 10% off if they click a link, those that are redirected won't have the parameter ?utm_medium=email. As a result, your website won't offer them the promised discount.
How do I keep query parameters when split testing?
Convertize has a feature that includes live query parameters for all redirected traffic. When viewing your project in the Smart Editor, you have the option of setting up a split test by clicking on the small drop-down arrow by 'Scenario 1' at the top left of the screen and selecting 'Convert to Redirection URL'. You will then be presented with the following: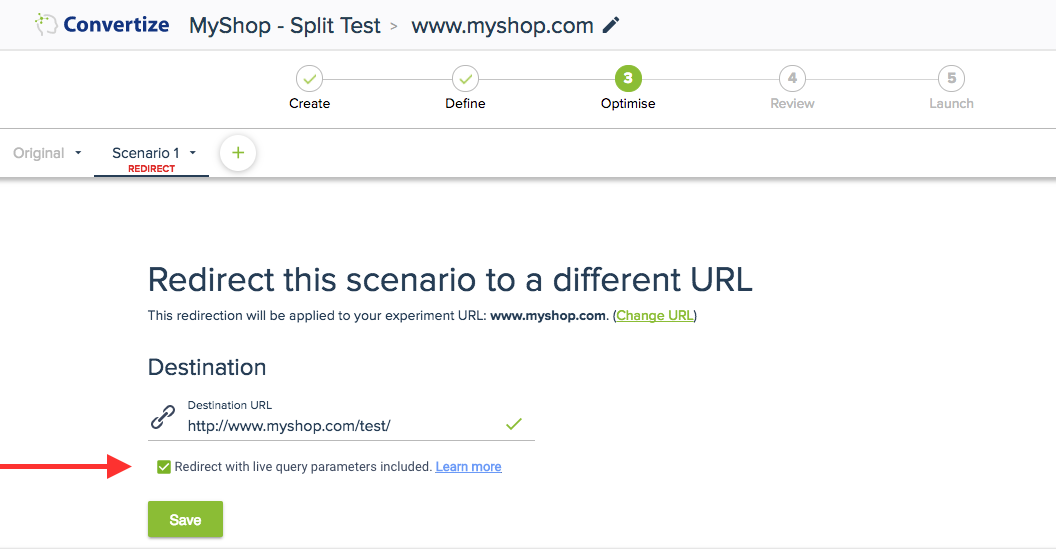 As you can see, the 'Destination URL' is the variation you will redirect part of your traffic to from the original page. In order to preserve the live query parameters, you simply have to tick the box underneath the Destination URL.
And that's it!