Convertize Plans And Pricing
After your free trial ends, you will have to choose a paid plan to keep A/B testing your content with Convertize. Every Convertize plan comes with all the major A/B testing features and plugins, so you should choose your plan based on the number of monthly visitors your website receives.
The Convertize Solo plan
The Solo Plan includes all the major A/B testing features, including the Autopilot, Hybrid Statistics Engine and SmartPlugins. It allows you to test your web content on up to 20 000 unique visitors each month, with up to 3 projects at a time.
Who is it for?
The Solo Plan is best for websites with a consistent amount of traffic, who want to increase their conversion rates. It is particularly popular for:
Bloggers
Small business websites
Trade websites
Jewellery retailers
SaaS websites
Agencies
The Convertize Team plan
The Team Plan comes with all the major A/B testing features and includes a copy of Smart Persuasion. You can adjust the Team Plan to match your monthly traffic. In order to see the different volumes and prices for the Team plan, use the slider in the table on our pricing page, as demonstrated below.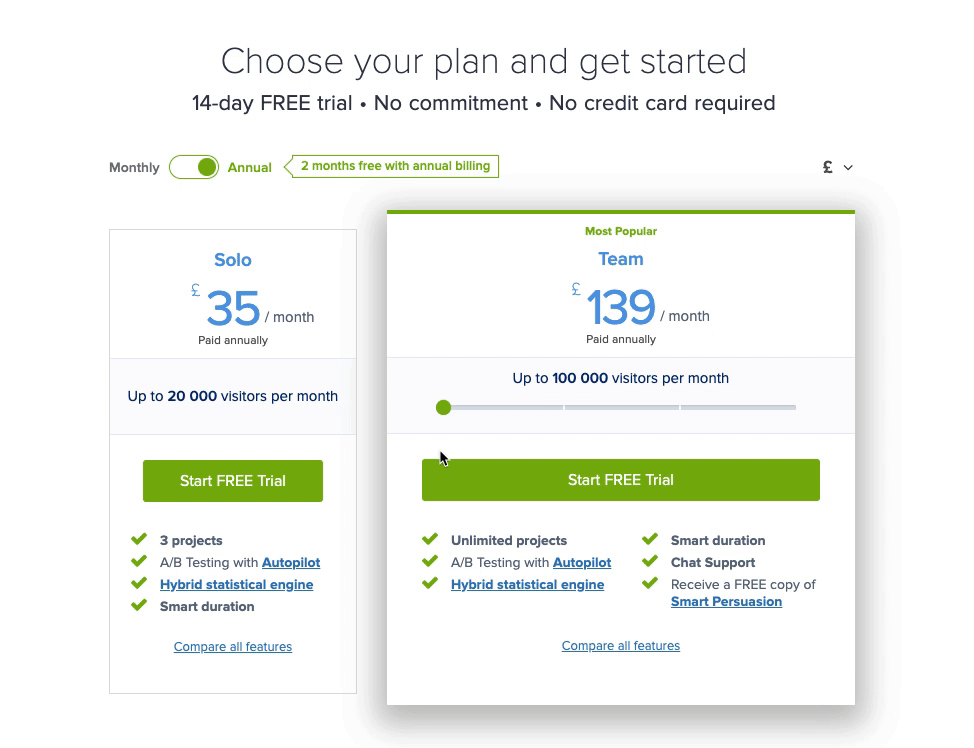 Who Is It For?
The Team Plan makes enterprise-standard A/B testing affordable, even with high traffic. It is popular for larger retailers and eCommerce platforms, for example:
Fashion websites
eCommerce platforms
Travel websites
Real estate services
Is A/B Testing With Convertize Worth It?
As with most CRO tools, A/B testing provides one of the highest average returns of any marketing investment. However, unlike investing in PPC advertising or other paid channels, the pay-off is not direct or obvious. Rather than generating more leads, A/B testing helps you to convert more leads into customers. In other words, it makes your other marketing channels more effective.
Calculating Your Return On Investment (ROI)
To calculate the return from your investment in Convertize, you need to go to your results page. Because a conversion is worth different amounts depending on the goal you set, you need to decide on the average value for that particular conversion. To find how many extra conversions your new page will generate, you simply make the following calculation:
(Monthly Visitors ✕ % Conversion Rate Winner) – (Monthly Visitors ✕ Conversion Rate A) = Extra Conversions
To find out how much extra revenue this generates, you simply multiply the extra conversions by your average goal value. So, this is how much money Convertize could earn you with just a tiny increase in your conversions: