How to Add Dynamic Text To Your Landing Pages
https://docs.convertize.io/fr/docs/comment-utiliser-le-smartplugin-de-texte-dynamique/
Making sure your landing pages match your PPC ads has been shown to increase your conversion rate by over 210%. Unfortunately, that means limiting your ads or creating endless pages. Adding dynamic text to your landing pages means your titles, text and CTA buttons change depending on which link your visitor clicks. That way, you can optimize your paid campaigns without wasting time and money creating more pages.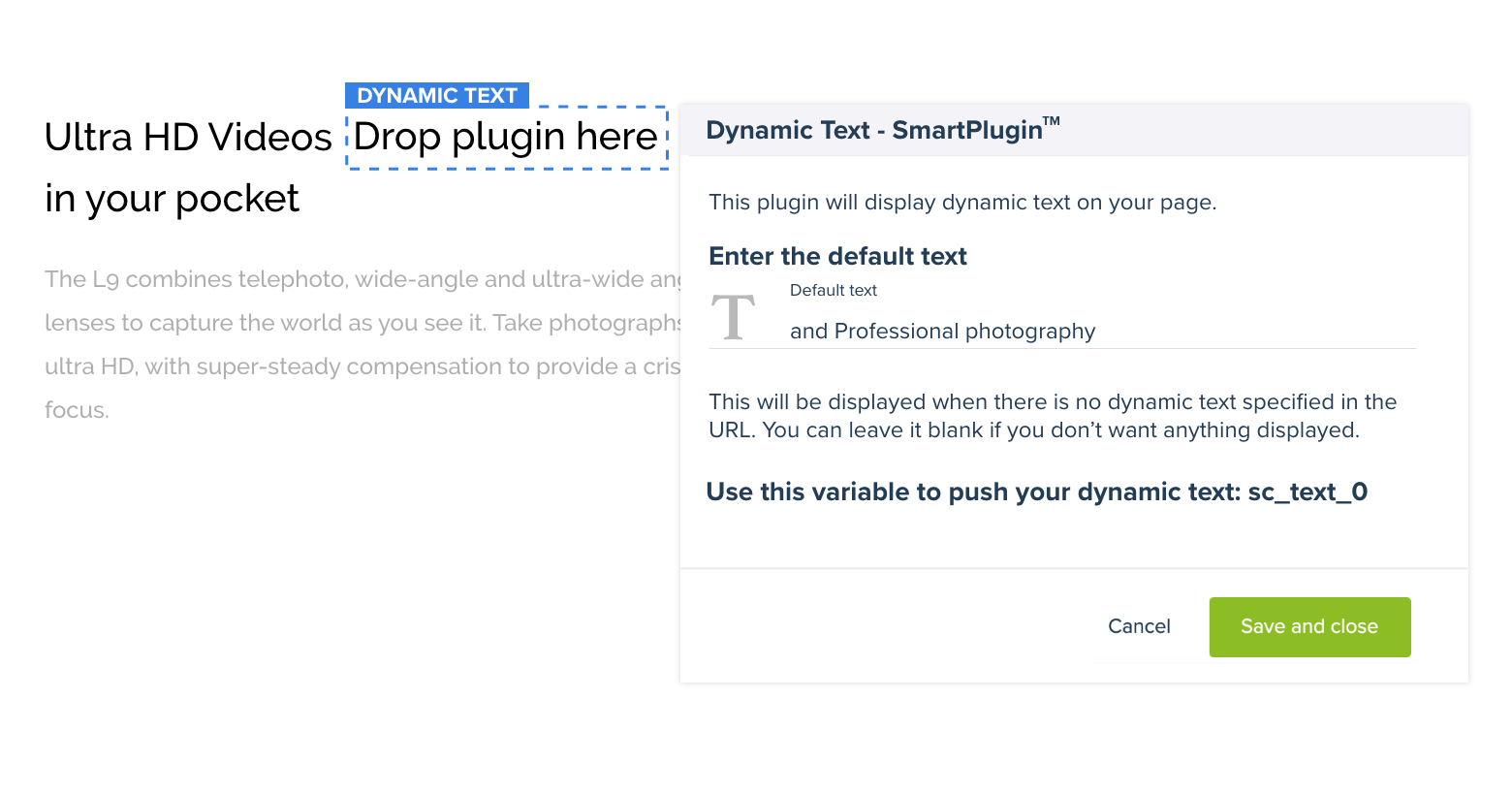 It's essential that your company's message remains consistent throughout your campaign. Not only does the consistency reduce your bounce rate – it also improves your Google Quality score. Because of this, dynamic text is a powerful tool for maximising your PPC investment. Personalizing your web content is a proven way to increase conversions and build more revenue.
How To Add Dynamic Text To Your Landing Pages
There used to be two ways to add dynamic text to your landing pages: 1.) with a landing page builder 2.) manually, through coding.
Landing page builders like Unbounce, Landingi and SUMO usually offer dynamic text with their page templates. However, that means paying for another tool and starting your campaigns from scratch. You can engineer dynamic text replacement manually, using a combination of Javascript, UTM parameters and JSON files. Unfortunately, that means spending a lot of time on a database that will probably have to change every few months.
Neither of these options is ideal for most business websites. So, Convertize created a third option: 3.) the Dynamic Text SmartPlugin™.
With the Dynamic Text SmartPlugin™, you can add dynamic text to your pages whilst optimizing your content with the SmartEditor™. To convert your titles, text or buttons, you simply drag the icon into the right area. That means you can add dynamic text to your landing pages with zero coding.
Match your ad content to your landing pages, increasing conversions
Create better engagement with your users
Optimize your PPC campaigns
How The Convertize Dynamic Text SmartPlugin™ Works
To see how our Dynamic content SmartPlugin™ works, let's take a concrete example. Let's assume a company like Skype want to run an AdWords campaign with three different headlines. This is how the SmartPlugin™ makes their landing page content dynamic.
1. Context: Your PPC Campaigns
These are the adverts that Skype want to create.
Adwords campaign #1


Adwords campaign #2


Adwords campaign #3


Each advert will send visitors to a single landing page. Without Convertize, it displays the same content regardless of which PPC ad the user has clicked through from: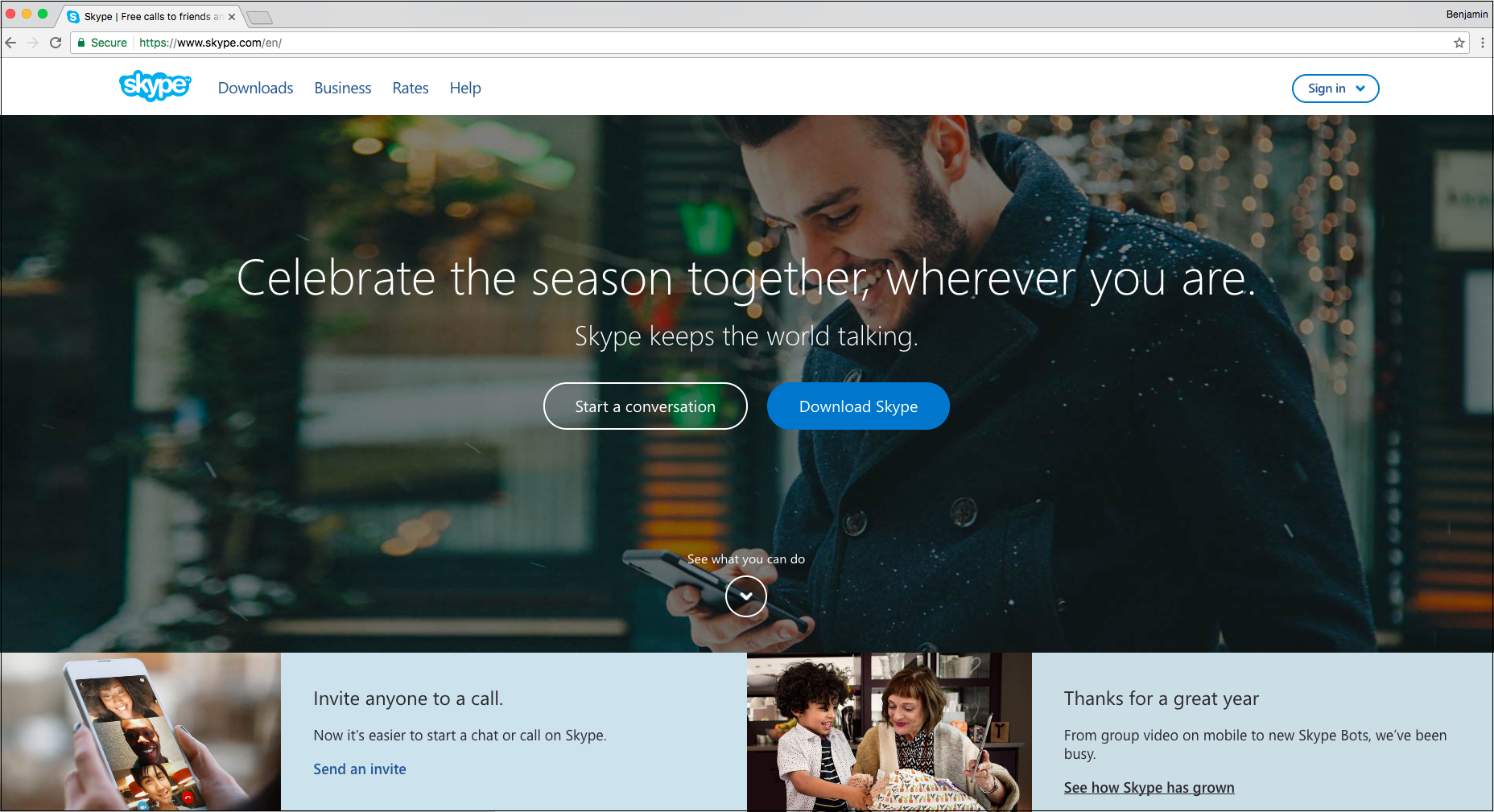 2. Adding Dynamic Text With Convertize
The goal is to provide relevant, consistent content between ad and landing page. The first step is to load the existing landing page in Convertize. In this case, the landing page is https://www.skype.com/en/
The next step is to copy and remove the text you would like to adapt to your different ad campaigns.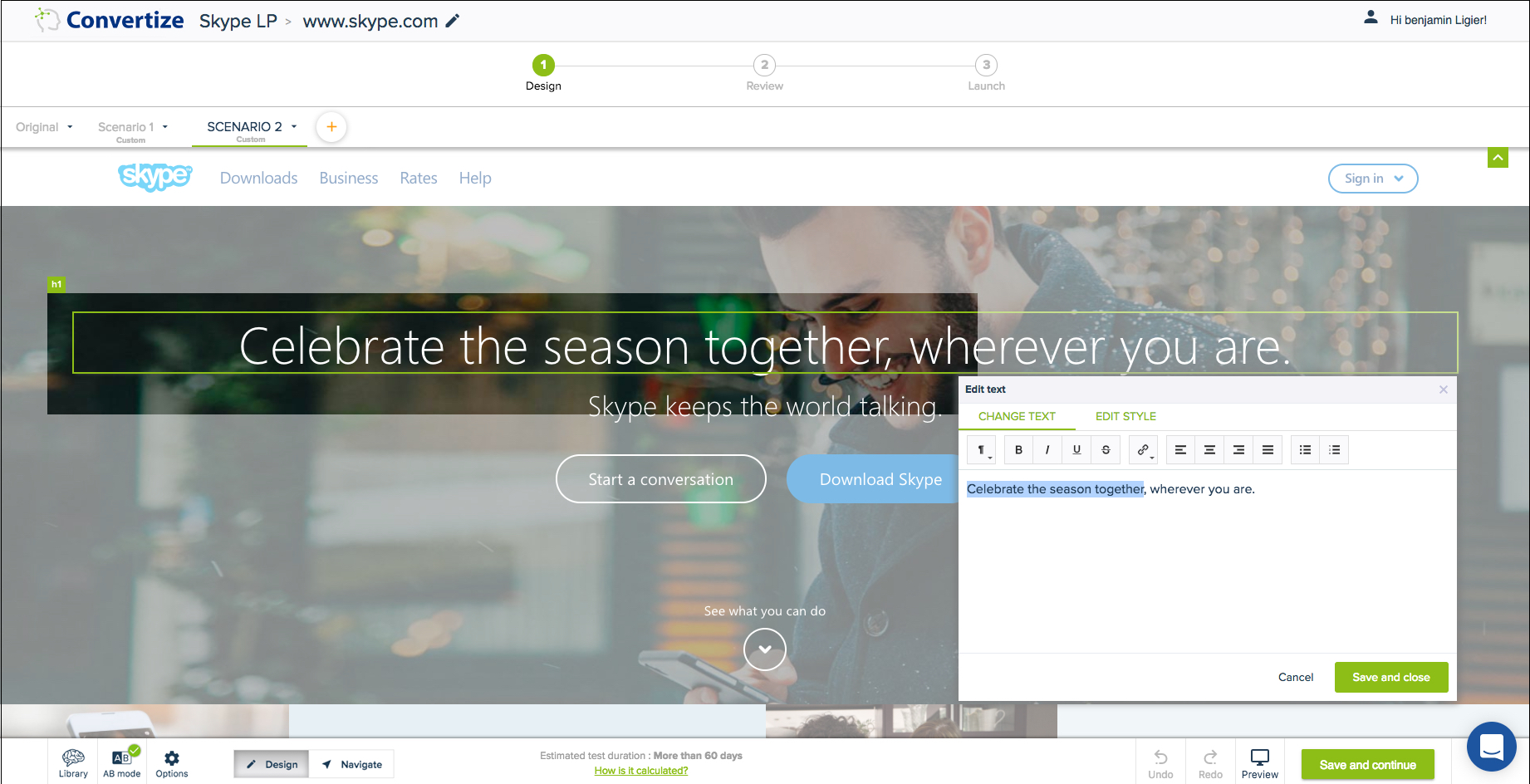 We will reuse the deleted text as default text, once we have installed the plugin.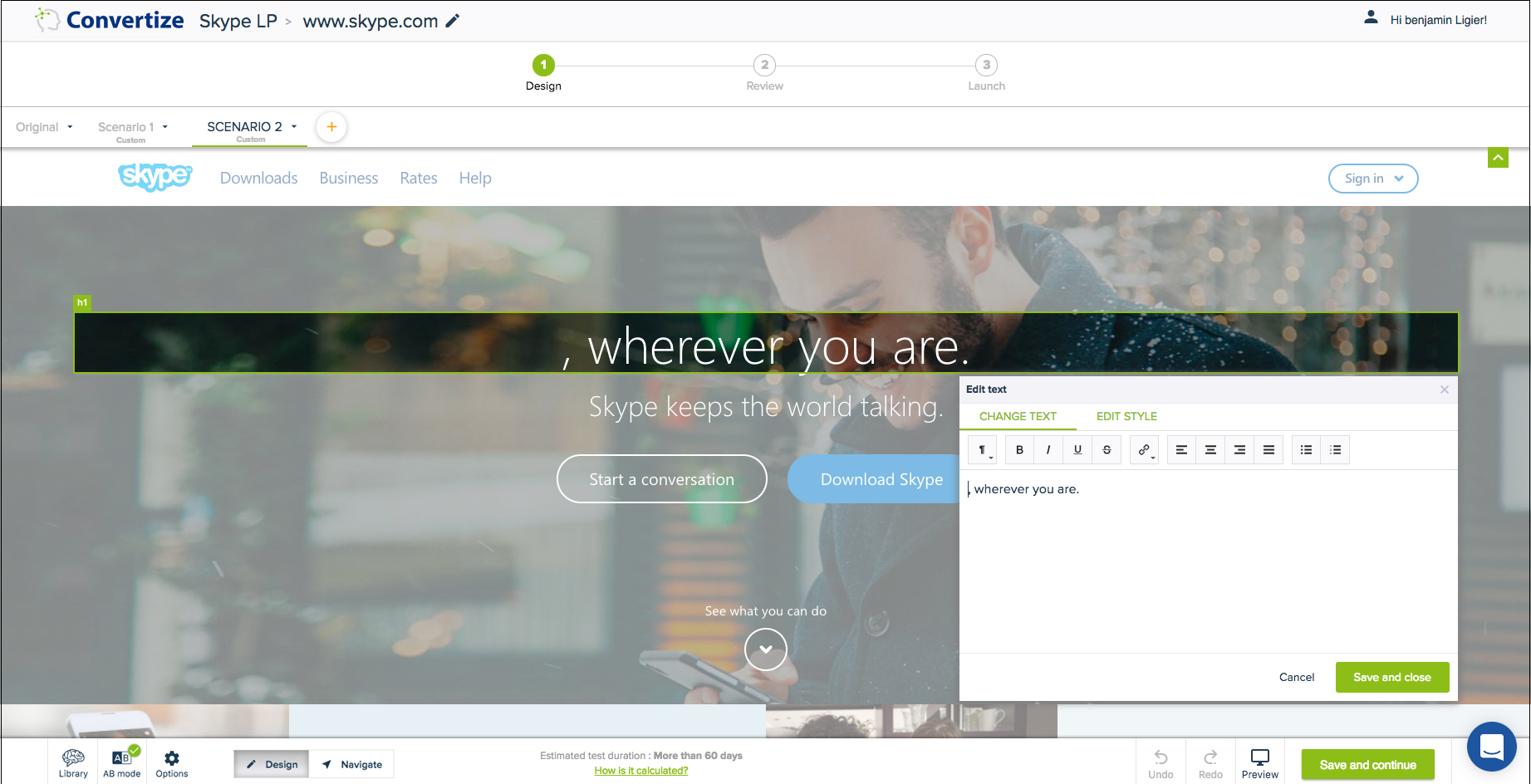 Once you have copied and removed your default text, the third step is to add the plugin. You should see the Dynamic Text icon in the SmartPlugin widget, which usually appears on the left side of the Editor. As with each of the other SmartPlugins™, it is a drag and drop feature. Whilst moving it you will see a placeholder with 'Drop plugin here'.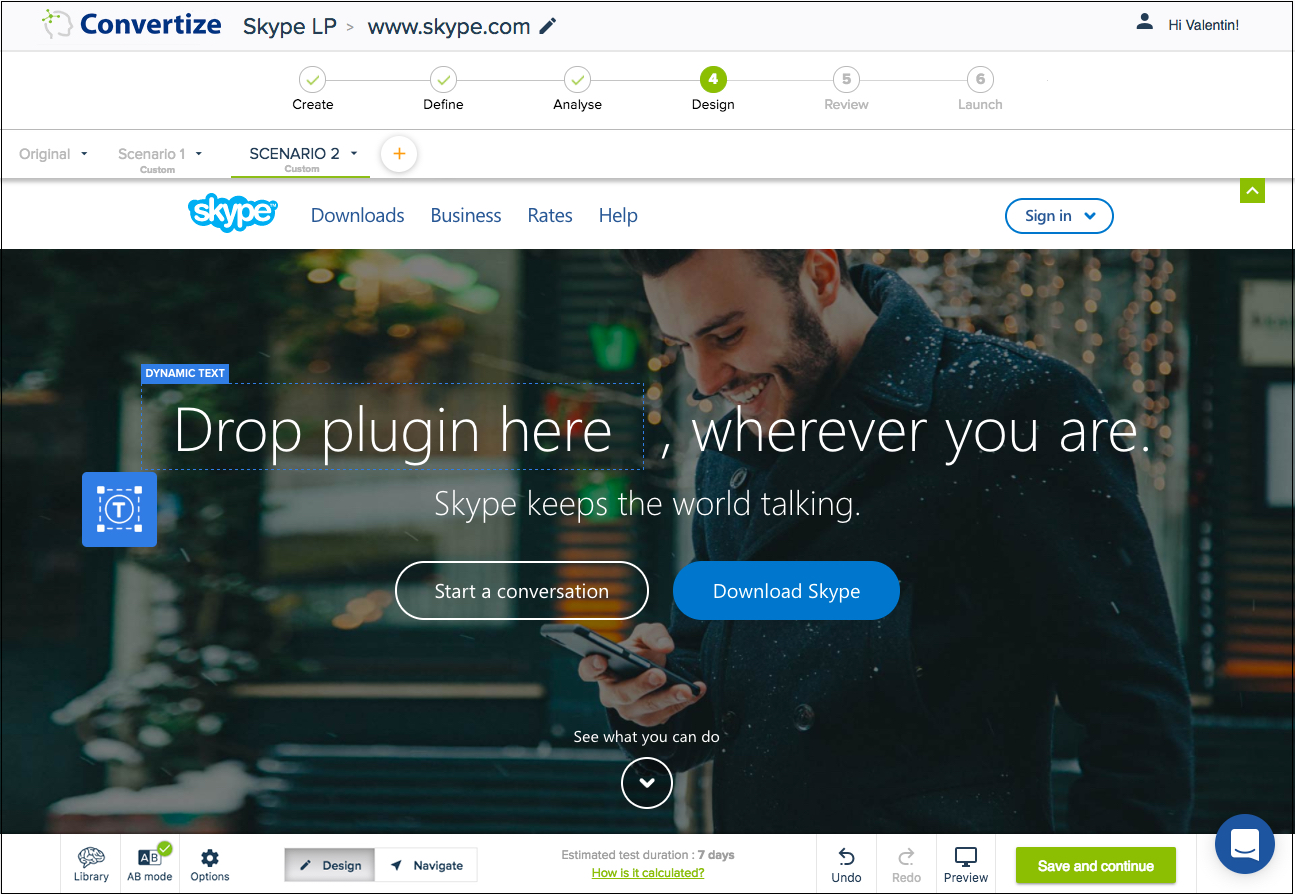 When you have placed the Smart Plugin in the right location, a box will appear beside it. This is how you configure your dynamic text.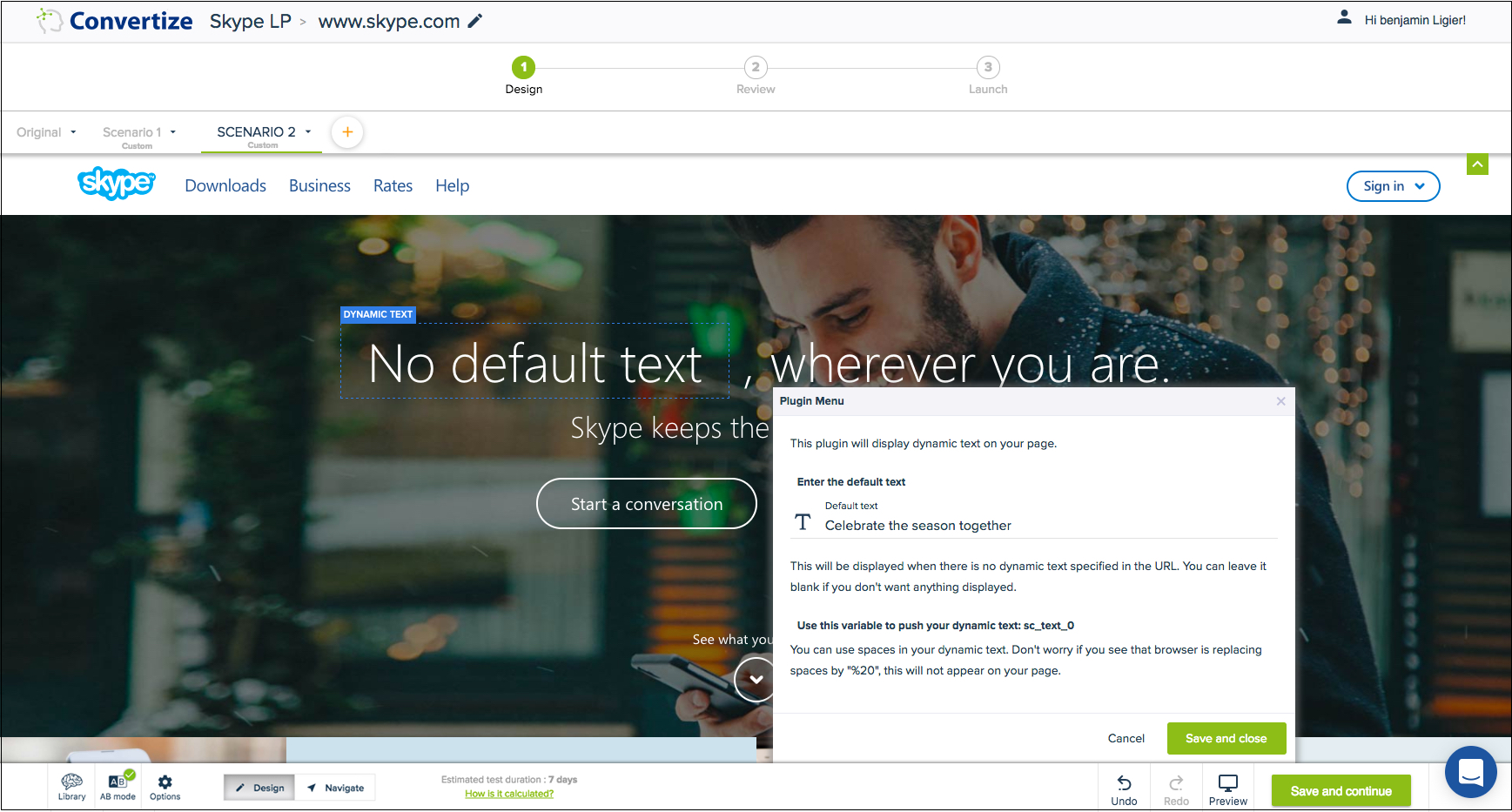 Paste the text that you removed earlier into the available field. In the example of Skype, it is "Celebrate the season together". This is your default text, and it will appear for visitors who don't arrive at the page via one of you preconfigured links.
Please note: The initial parameter for the Dynamic Text SmartPlugin™ is sc_text_0  however it may be different if you have previously used and deleted a previous SmartPlugin. Check the exact sc_text parameter for the plugin in the menu popup as shown below – for example, it may be sc_text_1.
3. Setting Up Dynamic Text on your PPC Campaigns Interface
Go to your campaigns and add the parameter sc_text_0 to your URL and specify the content you want to replace the default value you set up using Convertize.
The 3 variations of the text are: 
"Chat with your colleagues": sc_text_0=Chat%20with%20your%20colleagues
"Invite anyone to a call": sc_text_0=Invite%20anyone%20to%20a%20call
"Call your friends for free": sc_text_0=Call%20your%20friends%20for%20free
Bear in mind that if Skype doesn't run any of the Adwords, the default message 'Celebrate the season together' is the content that will be displayed.
And this is an example of a full URL
https://www.skype.com/en/?sc_text_0=Invite%20anyone%20to%20a%20call
You can shorten the link, and the dynamic text will still work.
Parameter conditions
Also note that if sc_text_0 is the first parameter in your URL, you will have to add a ? after your landing page's URL, as shown below:
https://www.skype.com/en/?sc_text_0=Invite%20anyone%20to%20a%20call
However, If sc_text_0 comes after other parameters, like utm_campaign= for instance, then you just have to add an & sign before the parameter:
https://www.skype.com/en/utm_source=google/&sc_text_0=Invite%20anyone%20to%20a%20call
https://www.skype.com/en/utm_source=google/&utm_campaign=Skype_adwordssc_text_0=Invite%20anyone%20to%20a%20call
How To Use Dynamic Text To Optimize Your PPC Campaigns
Using dynamic text, you can create new ads and ensure that each one matches your landing page. That means you can easily experiment to see which one has the highest CTR and the lowest CPC.